Riders were treated to dry weather for the last chance to test themselves on the Cwm Rheidol 10 mile course for 2019. With conditions fairly good, it would be interesting to see what riders could pull out of the bag with their last chance to improve on their course times.
In the ladies road bike category, Elaine Rowlands continued to show her strength, crossing the line first in 29.54, breaking that 30 minute barrier and setting another new V50 record.
In the overall ladies event, Anita Saycell took the win in 26.00, setting the V40 record, with Helen Marshall closely behind in 26.55, and Elaine Rowlands taking the third podium place in 29.54 with her V50 record time.
In the men's road bike category, Adam Hepburn was the clear winner, crossing the line in 24.37. In second place was Justin Manley, with a strong ride to finish in 27.53. The third place went to Toby Driver breaking the 30 minute barrier and finishing in 29.42.
The overall men's event saw a battle for the three podium places, with Rhys Jeffreys coming out on top with a personal best time of 22.46, placing him in first place. Andy Hunt continued to show his form this year with a storming ride to take second place in 23.28 and Steffan Roberts following closely behind to take the third podium spot with another strong ride finishing in 24.15.
Thanks need to go to all the riders, Andy Hunt for organising, and to Derek, Katie, Scott and Gwen for time keeping and marshalling.
With only 2 events left for 2019, it's a great chance to come along, set a time and enjoy catching up with other riders.
21/08/2019 Llety Gwyn 10 mile – 7.00pm
28/08/2019 Clarach Hill Climb 1 mile – 7.00pm
Cwm Rheidol 10. Wednesday August 13th 2019
Rhys Jeffreys (11.22) 22.46
Andy Hunt (11.35) 23.28
Steffan Roberts (11.56) 24.15
Adam Hepburn (12.22) 24.37
Anita Saycell (12.51) 26.00
Helen Marshall (13.26) 26.55
Rhodri Duffee (13.31) 27.21
Justin Manley (13.50) 27.53
Toby Driver (14.52) 29.42
Elaine Rowlands (14.40) 29.54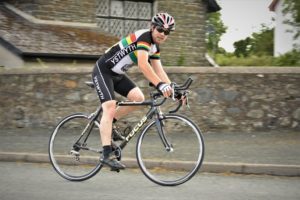 Rhodri Duffee on his way to crossing the line in 27.21