It proved to be a fast night on the Llety Gwyn 10 mile TT course, with personal best times and course records broken.
The men's overall podium was a battle with the top four riders all under the 24 minute barrier.
The current men's senior record set by Shelley Childs in 1996, was equalled tonight by Rhys Jeffreys with his time of 22.46 earning him first place overall.
In second place and only one second behind was Ieuan Andy Davies in a time of 22.47.  Following closely behind was Andy Hunt, TT organiser in a storming time of 23.28.
The road bike podium place went to Steffan James in an amazing 23.37 earning him fourth place overall.  Dafydd Wright rode strongly to take second place crossing the line in 25.15, followed closely by Wayne Maguire showing his current form finishing in 25.41.
The overall women's event saw Emma Palfrey ride strongly to take the win in 27.17, followed by junior rider Lowri Richards in 28.49 and taking third place and setting a new V50 course record, Elaine Rowlands in 29.40.
It was great to see David Casso-Davies returning to ride this course on the same bike he last used to TT when he was seventeen years old.
Thank you to all the riders, Andy Hunt for organising, and to Derek, Scott, Katie and Glyn for their help on the night.
With only 3 events left there is something for everyone from 1 mile to the 10 mile course.  It's a great chance to come along, set a time and enjoy catching up with other riders.
14/08/2019 Cwm Rheidol 10 mile – 7.00pm
21/08/2019 Llety Gwyn 10 mile – 7.00pm
28/08/2019 Clarach Hill Climb 1 mile –  7.00pm
Llety Gwyn 10. Wednesday August 7th 2019
R=No TT bars.
Time in brackets are the halfway splits.
Rhys Jeffreys (11.32) 22.46
Ieuan Andy Davies (11.21) 22.47
Andy Hunt (11.47) 23.28
Steffan James R (11.47) 23.37
Dafydd Wright R (12.27) 25.15
Wayne Maguire R (12.46) 25.41
Rhodri Duffee (13.13) 26.28
Mike Sherman R (13.07) 26.40
Emma Palfrey (13.43) 27.17
Justin Manley R (13.31) 27.18
Andre Marsh (13.38) 27.38
Lowri Richards R (14.26) 28.49
Elaine Rowlands R (14.40) 29.40
David Casso-Davies R (15.14) 30.27
Nia Richards R (16.39) 32.53
Caron Pugh DNF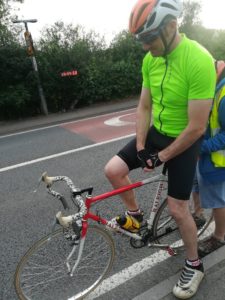 David Casso-Davies riding the same bike he last used on this TT course when he was 17 years old
Rhys Jeffreys being counted down before riding away with the overall win