What a weekend! In only it's third year, the Triple Crown event sees a weekend of great local racing. Testing the riders over a number of different local courses from a short opening prologue to a longer hilly time trial. With four events in total over the three days, it was all to play for. Riders could choose as many or as few stages as they wanted, but each event counted to the overall General Classification (GC). Prizes were available after each stage, and the overall GC, thanks to our club sponsor Summit Cycles.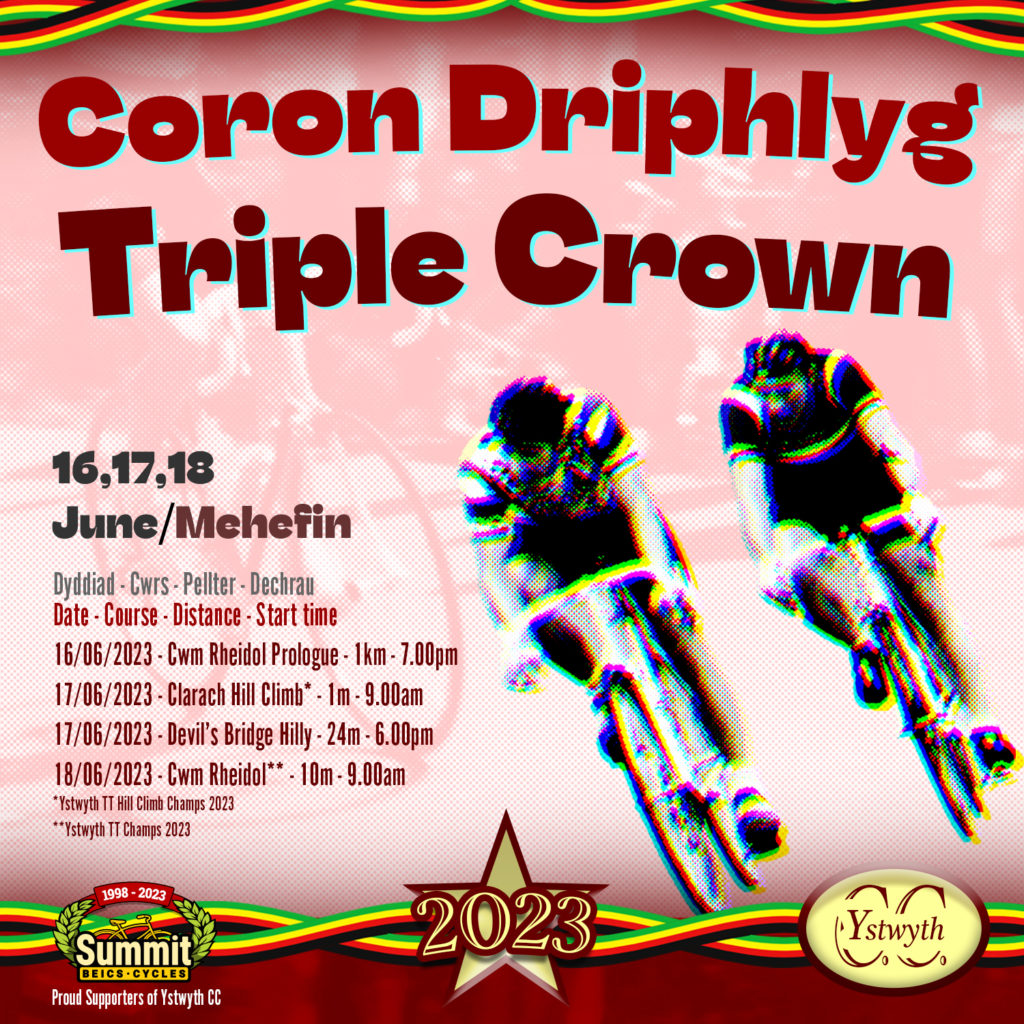 The Triple Crown began on Friday with the Prologue, attracting 11 riders to the start line. The flat, short event made for some exciting racing.
Rich came out on top, with an impressive 2.09, to set the bar for the weekend and Lois top lady with 2.32. It was promising an exciting weekend with another three events to still count for the overall Triple Crown.
Ystwyth Time Trial Triple Crown 2023 – Prologue Results
Richard Pizzey 2.09
Llion Rees-Jenkins 2.19
Arwel Wyn Jones 2.30
Lois Brewer 2.32
Shelley Childs 2.32
Anita Saycell 2.36
Rhodri Jenkins 2.37
Glyn Williams 2.37
Leah Brewer 2.43
Ian Brandreth 2.53
Mike Fitch 3.00
Prologue tactics and finish line prizes:
Next onto Saturday morning with the Clarach Hill Climb. This 1 mile hill climb, with a gradient of around 8% average was always going to be a test for the riders, short but careful pacing was needed to the top. The riders had some great encouragement up the hill which helped them to dig deep to the finish line.
Clarach Hill TT profile:
The hill climb saw some fast times with Rich coming out on top again, not just taking the win but also setting a new YCC record! Junior rider Llion only 41 seconds behind and Arwel powering up the hill to take the third place. Taking the ladies win, Lois showed her hill climbing form with an impressive time to take the win, with sister Leah only 6 seconds behind for second and Anita in third. With the fast times, there didn't seem to be any sign of tired legs!
Ystwyth Time Trial Triple Crown 2023 – Stage 1. Clarach Hill Climb Results
Richard Pizzey 3.59
Llion Rees-Jenkins 4.40
Lois Brewer 5.09
Arwel Wyn Jones 5.10
Leah Brewer 5.15
Rhodri Jenkins 6.01
Tim Strang 6.01
Anita Saycell 6.40
Toby Driver 7.07
Ian Brandreth 7.24
Mike Fitch 8.12
Clarach Hill Climb contemplation before and after:
Onto the next event Saturday evening, the Devil's Bridge Hilly. With the weather dry and warm, it was a chance to see if the overall Triple Crown GC would be shaken up.
The riders had over 25km and 500 meters of climbing along the scenic road to Devil's Bridge and then around to the finish at Nant yr Arian.
Rich powered around the course, taking the win, with Llion flying along to take second place and Arwel completing the podium with a strong ride to finish third.
Clwb Beicio Ystwyth Time Trial Triple Crown 2023 – Stage 2. Devils Bridge Hilly. Results.
Richard Pizzey 41.31
Llion Rees-Jenkins 44.02
Arwel Wyn Jones 46.32
Rhodri Jenkins 52.15
Anita Saycell 55.55
Tim Strang 56.37
Ian Brandreth 1.02.03
Start and finish photos – Devil's Bridge TT: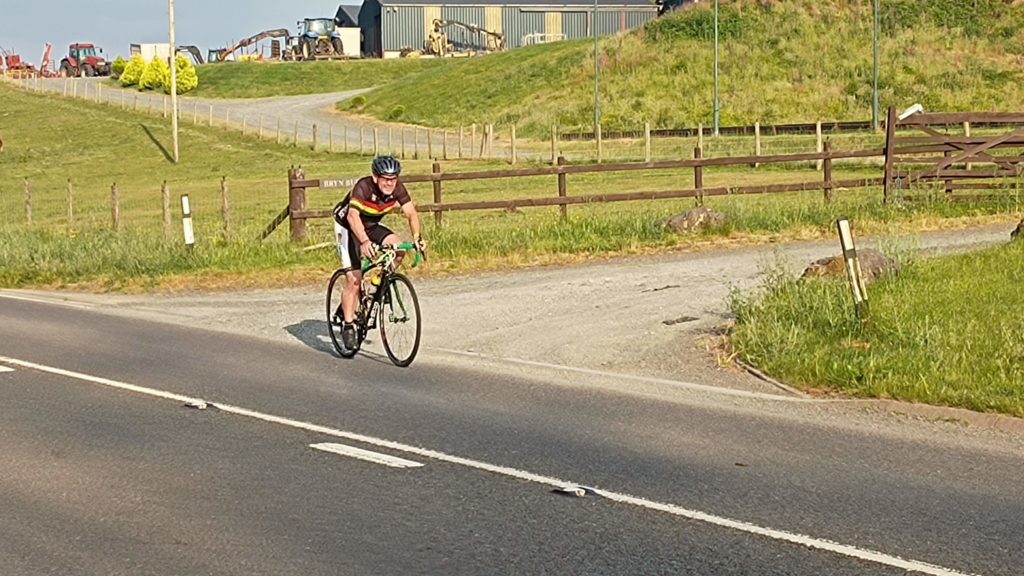 The Triple Crown then moved onto the final event on Sunday morning. Legs were getting tired, but riders had everything to ride for to keep or improve their GC positions.
Overnight the heavy rain had cleared the air and the roads were left dry for the start of the Cwm Rheidol 10 mile time trial.
The top three riders proved they were not going to be pushed off the leader board. Rich not showing any signs of slowing down, took the overall win and set a new YCC course record by 4 seconds! Llion showing his form this summer, absolutely flew the course to take second place, and what must be a PB and Arwel showing his return to form this season crossed the line in third.
Clwb Beicio Ystwyth Time Trial Triple Crown 2023. Stage 3. Cwm Rheidol 10.
Richard Pizzey 21.40
Llion Rees-Jenkins 22.53
Arwel Wyn Jones R 25.07
Rhodri Jenkins R 27.17
Anita Saycell 27.24
Mike Fitch 29.20
Tim Strang R 29.24
Ian Brandreth R 30.16
Toby Driver R 30.37
Cwm Rheidol TT Photos: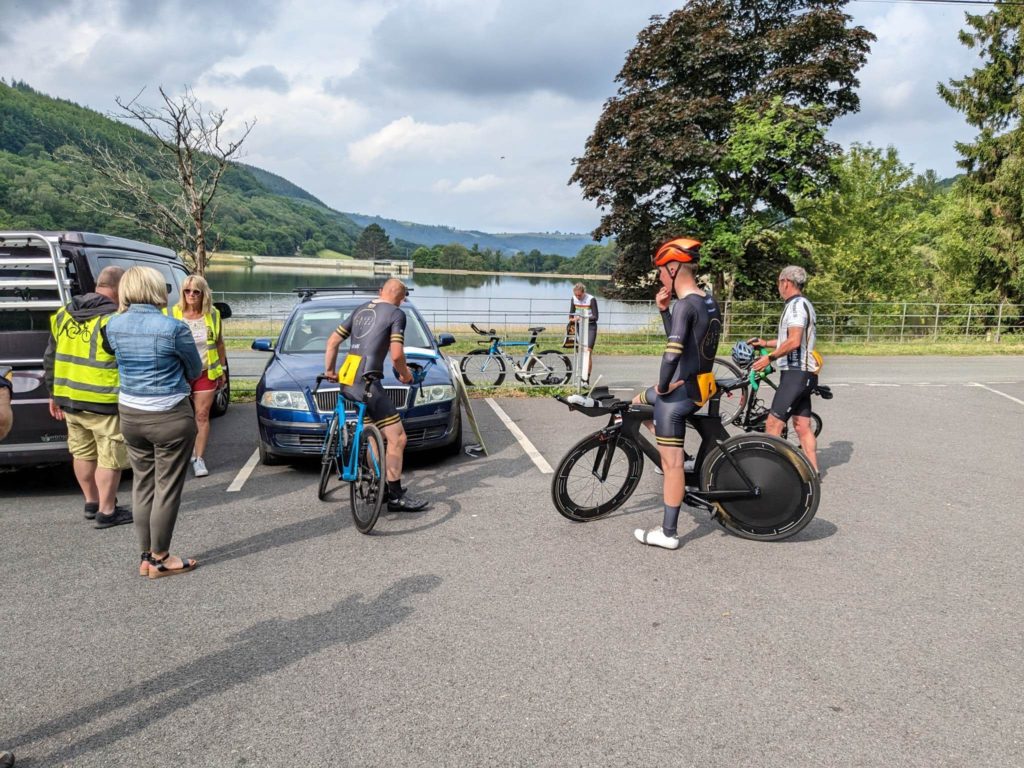 After a fantastic weekend of racing, the Triple Crown GC was decided. With thirteen riders taking part over the weekend, the overall GC win went to Rich, having dominated each event over the weekend. In second place, junior rider Llion, showing his form this season claiming second place and great to see Arwel back racing and on top form to take third place on the podium.
In the ladies event, Anita took the GC win, with Lois taking second place and only 17 seconds behind on the GC, sister Leah.
Thanks go to our club sponsor Summit Cycles in providing all the prizes and a huge thank you to Andy H, Derek, Elaine and everyone else that helped out, rode and supported the events over the weekend, without you all there would be no event – diolch yn fawr.
General Classification
Richard Pizzey (4) 1.09.19
Llion Rees-Jenkins (4) 1.13.54
Arwel Wyn Jones (4) 1.19.19
Rhodri Jenkins (4) 1.28.10
Anita Saycell (4) 1.33.11
Tim Strang (3) 1.35.11
Ian Brandreth (4) 1.42.36
Lois Brewer (2) 1.44.56
Leah Brewer (2) 1.45.13
Mike Fitch (3) 1.45.47
Toby Driver (2) 1.46.08
Shelley Childs (1) 1.48.23
Glyn Williams (1) 1.48.28