The club enjoyed their annual dinner at the Tafarn y Maes, Capel Bangor on Friday evening. The evening was a chance to celebrate the year, catch up off the bike and celebrate club achievements.
Ystwyth CC were grateful to their special guests that attended, the life members, local pro rider Gruff Lewis and the club sponsors, Summit Cycles and Cambrian Tyres.
During the evening the club held a raffle, which raised £236.90 which will be donated to the local MIND charity in Aberystwyth. A special thank you to everyone who bought tickets and raffle prize donators;
Summit Cycles
Cambrian Tyres
Life Member, John Gisbourne
Club Kit Secretary, Paul Tedaldi
The evening ended on a high with the annual club awards being hosted by the Club Membership Secretary and long time club member, Andy Davies.
Life Member Glyn Evans, presented Ieuan Andy Davies with the 'Men's TT League Winner' award.
Ken Williams, Life Member presented Anita Saycell with the 'Ladies TT League Winner' award.
Leif Skot, Life Member presented Rhys Jeffreys with the 'Handicap TT' award.
Club sponsor, Summit Cycles (Joe) presented the 'Club Person of the Year' award to Derek Rattray.
Life Member and representing the club sponsor, Cambrian Tyres, Shelley Childs presents Ieuan Andy Davies with the 'Club Road Race Award'.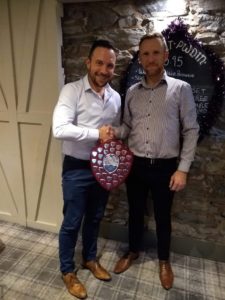 John Gisbourne, Life Member presented Andy Hunt with the 'Hilly Time Trial Award'.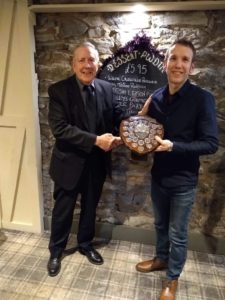 Club Sponsor, Summit Cycles (Jim) presented Gruff Lewis with the 'Hill Climb' Award.
Gruff Lewis, local pro rider for Team Ribble Cycling presented Steffan James with the 'Most Improved Rider' award.
A special thank you from Ystwyth CC to all the Life Members that were able to attend the Annual Dinner and present the awards. From left to right; Glyn Evans, Ken Williams, John Gisbourne, Leif Skot and Shelley Childs.
The club would like to thank
Tafarn Y Maes
for providing fantastic food and hosting Ystwyth CC for the evening and the Club Social Secretary for all her hard work in arranging the event.