Ystwyth CC have been well represented on the road this year with a record number of club members earning their 2nd category race licences and earning some great results along the way.
To be able to gain a 2nd category licence involves riders earning a total of 40 points. This is no mean feat as riders often have to travel many miles to be able to race and then need to be able to finish in the top ten to be able to earn the points.
It is great to see Lois and Leah secure their 2nd category (cat) licences, having travelled over 3,500 miles to get to races this year proving their dedication and commitment to race. With a few crashes on the way, Leah had a big 'off' at the York Omnium (where Lois had a great 2nd overall) and they both crashed out at the Fete du Velo in Redbourne (Herts). They made up for this with top ten placings at all the races they entered. They're now both in full 'Zwift mode', riding for Team Fearless in the Zwift Classic series (and winning some $$ along the way!).
Representing the men on the road, Steff James after only racing for 12 months has earnt his 2nd cat licence this year. With a great season racing regularly and three successful wins at Pembrey during the summer.
Ieuan Andy Davies has regained his 2nd licence after returning strongly to the racing season this year and podium placings for the Masters 50+ category for the Welsh Criterium, Welsh Time Trial and the Welsh Road Race Championships.
Kristian Bond retained his 2nd category licence for 2019 and has been racing on the road and most recently raced the L'etape de la Defonce 2 day stage race, near Cowbridge along with Richard Eakins and Dave Jones.
Richard Eakins has had a great season racing for Ystwyth CC and again with his 2nd category licence he has raced on the road with many top ten placings.
David Jones has represented the club racing circuit races and the 2 day stage race with Richard Eakins and Kristian Bond.
The junior riders have also been proudly wearing the club colours on the road with Griff Lewis (under 16 boys) and Llion Rees-Jenkins (under 14 boys), both in the youth category racing on various circuit courses throughout the year and with fantastic results.
A few local riders have had the opportunity to join bigger race teams, Richard Pizzey has had a fantastic season and results and gained his 2nd category licence this year and now rides for Ale UK. Whilst Jack Woolley has been training hard with the Ystwyth CC riders and rides this year for BIKESTRONG-KTM, he has had another great season including wins at Pembrey race circuit and regular top three placings at races.
A special mention to pro local rider Gruff Lewis on his Welsh Road Race Championships win this year, a fantastic achievement.
Representing the Masters 40+ men has seen Wayne Maguire riding strongly this year to gain two top ten finishes. Malcolm Dines has also competed regularly down at Pembrey Circuit.
Representing the Masters 40+ ladies on the road has seen Anita on the podium for the V40 Welsh time Trial Championships.
The club are proud of all those that have been representing the club at road events thoughout the year. If anyone is intersted in road racing have a chat to those in the club for advice and check out: https://www.britishcycling.org.uk/knowledge/article/izn20141114-How-to-get-into-road-racing—Racesmart-0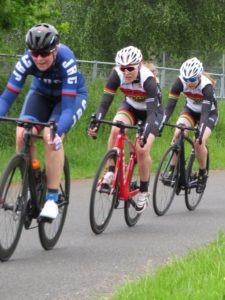 Lois and Leah earn their 2nd category race licences for 2019