With soaring record temperatures throughout the UK, it was going to prove a night of hot competition.
The men's road bike category saw Adam Hepburn burn away the competition to take the win and 4th overall with 24.14. It was great to see Shelley Childs return to the TT scene and take the second place on the road bike podium with 28.14. David Casso-Davies, setting faster times each week completed the podium in 28.41.
The overall men's event was hotly contested, with all three podium places under the 24 minutes and less than 45 seconds separating the winners.
Caron Pugh rode away with the win and in doing so set a personal best time of 22.47, and only 25 seconds away from the senior men's record on this course, which was set by Gareth Hodgson earlier this year. Ieuan Andy Davies also had a storming ride crossing the line in 22.54, and only 25 seconds from the V50 record. Taking the third podium spot was Rhys Jeffreys improving his times each week and setting a new personal best to take the overall third place in 23.31.
The women's road bike win went to Theresa Sharland, riding her first time trial and breaking the 30minute barrier, crossing the line in 29.03.
The overall women's category saw Anita Saycell take the win in 27.39, only just ahead by 4 seconds from Helen Marshall in 27.43.
Thank you to all the riders, Andy Hunt for organising and time keeping and Scott for his help on the night.
With only 5 events left there is something for everyone from 1 mile to the hilly 22 mile event. It's a great chance to come along, set a time and enjoy catching up with other riders.
31/07/2019 Devils Bridge Hilly 22 mile – 6:30pm
07/08/2019 Llety Gwyn 10 mile – 7.00pm
14/08/2019 Cwm Rheidol 10 mile – 7.00pm
21/08/2019 Llety Gwyn 10 mile – 7.00pm
28/08/2019 Clarach Hill Climb 1 mile – 7.00pm
More details on the club website: https://www.bc-clubs.co.uk/ystwythcc/index.php/time-trials/
Cwm Rheidol 10. Wednesday July 24th 2019
Caron Pugh 22.47
Ieuan Andy Davies 22.54
Rhys Jeffreys 23.31
Adam Hepburn R 24.14
Patrick Mayo 25.21
Dilwyn Griffiths 25.35
Andy Starr 26.53
Rhodri Duffee 27.16
Anita Saycell 27.39
Helen Marshall 27.43
Andre Marsh 28.02
Shelley Childs R 28.14
David Casso-Davies R 28.41
Theresa Sharland R 29.03
Start of the Cwm Rheidol TT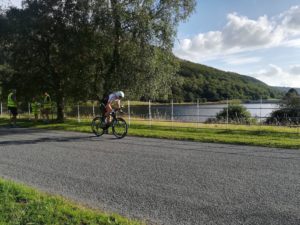 Caron Pugh on his way to a PB and overall win
Shelley Childs on his way to second place in the road bike category
Rhodri Duffey on his way to 7th overall place