The weekend kicked off with a successful first round of the Junior Summer Series on Friday, held at Blaendolau playing fields. Well done to all the juniors that took part and hope you all enjoyed! The next event in the series is round 2 at Llanidloes, on the 17 June. More details can be found on the Ystwyth Juniors Facebook page.
Then on Saturday, Welsh Cycling hosted the Welsh Time Trial Championships in Newcastle Emlyn with two riders flying the Ystwyth CC colours, Andy Hunt and Anita. The rain stayed away for the sporting 13 mile course. Each rider being set off every one minute in their category.
Andy H rode a great TT to take 4th in the Masters 40-49 Welsh Championship, narrowly missing out on a podium place by only 25 seconds.
Anita crossed the line to take the Masters Women's 40-49 Championship first place and Welsh jersey.
Andy H at the start of the Welsh Time Trial Championships: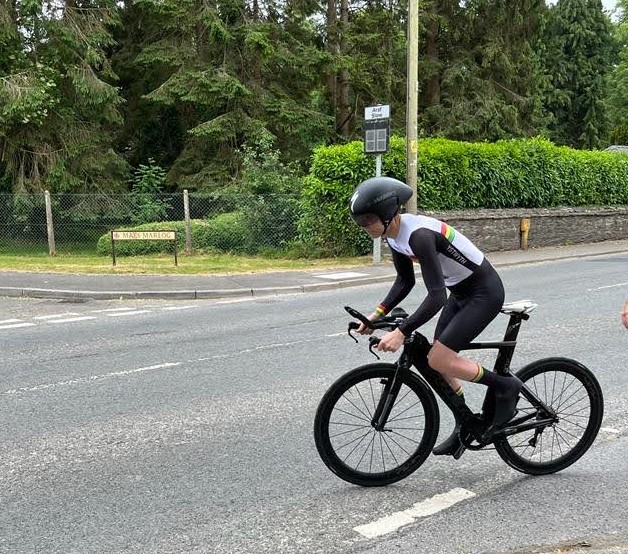 Sunday was a busy day on the bikes. While the men's Welsh Road Race Championship was being held in Newcastle Emlyn, Welsh Cycling ran some skills challenges in the town for the children, it was great to see some Ystwyth jerseys taking part!
Well done also to all the Caffi Gruff riders in the Welsh Championships over the weekend on their performances, there was some great racing and results over the weekend!
Representing the club further afield on Sunday, Toby took on the Round Norfolk Epic, completing over 215km, 9 hours in the saddle in temperatures hovering around 30 degrees – well done Toby!
And finally, Sunday saw a fab turnout for the club café meet up road rides with 11 riders on the 9.30 no drop ride. It was great to see new as well returning faces!
The club are grateful to Yr Hen Lew Du for a very warm welcome and for hosting the tea, coffee and delicious cake (If you haven't yet tried the homemade lemon drizzle cake…you're definitely missing out!!) The monthly café meet up is payed for by the club and a chance to catch up – no need to arrive on a bike, just drop by!
Just a reminder, there's no TT this Wednesday, in preparation for the Ystwyth CC Triple Crown.
There are events for everyone over the weekend, from a 1km time trial to a rolling 24 mile event. Lots of prizes available and all events help to count for the overall Triple Crown. More details will be posted on the Club Facebook page. Come down and have a go – all welcome!