This event organised by Andy Hunt saw the 15 riders battling for the Club Championship honours. It was great to be able to use Caffi Gruff in Talybont as the race HQ. Riders were able to sign on and enjoy a pre-race coffee.
The pre-entries meant that the riders were seeded with their start time which made for a great event. With prizes across the board for road bike and TT bike categories, plus a handicap category for the most improved rider there were plenty of prizes up for grabs.
The gently rolling 16.5 mile route started from Tre'ddol and headed out to Machynlleth to return the same way back to the finish. The riders enjoyed smooth tarmac and quiet Sunday morning roads. The tailwind to the turnaround provided some quick halfway splits, before the riders battled hard to return to the finish.
After the event, Caffi Gruff again gave the club a warm welcome back providing much needed coffee and cake while the winners were presented with their championship t-shirts.
Huge thank you to Andy H and Derek for organising this event and to Nia, John, Lynfa, Scott, Ian, Karen for all their help at the event and to Caffi Gruff for providing a great race HQ and refreshments.
Club Championship Winners for 2019

Female Road Bike Winner (no TT bars) – Elaine Rowlands
Male Road Bike Winner (no TT bars) – Rhys Evans
Female TT Bike Winner – Anita Saycell
Male TT Bike Winner – Ieuan Andy Davies
TT Handicap Winner – Caron Pugh
TT Handicap Winner – Caron Pugh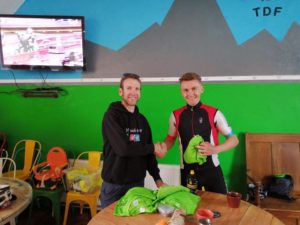 Male TT Bike Winner – Ieuan Andy Davies
Female TT Bike Winner – Anita Saycell
Male Road Bike Winner (no TT bars) – Rhys Evans
Female Road Bike Winner (no TT bars) – Elaine Rowlands